CAPITAL STORIES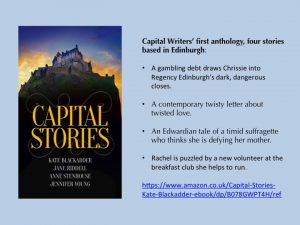 COURTING THE COUNTESS
COURTING THE COUNTESS by Anne Stenhouse opens in the English Border country 1819 and moves quickly to Edinburgh's George Square, a fashionable address of that period.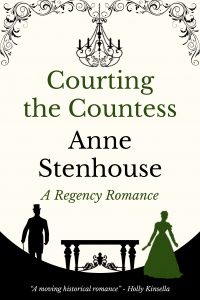 Lady Melissa Pateley is not having an easy time of it.
Her beloved husband Neville has died, and a fire at her London home has left her covered in scars. If it wasn't for a band of loyal servants, she's not sure how she would survive. Things take a turn for the worse when one day, Colonel Harry Gunn and his fellow soldier Zed break into her home, bundle her into a coach and kidnap her.
She is at a loss until she learns that Harry Gunn is the cousin of George Gunn, a man who has been stalking her for years, and that Harry's Uncle John had warned him that as long as George is out there, Melissa is not safe.
Uncle John insists that Harry finds Melissa and keeps her safe.
But that very night George shows up at Harry's home with Harry's sister Lottie, who thinks Melissa and George would make a good match.
Perhaps Melissa would have been safer at home after all.
Yet even with her scars, she is certain that the handsome Colonel Gunn is attracted to her. But of course, nothing is ever simple.
Startling revelations rip the family apart, causing everyone to question what they once held dear.
As Colonel Gunn goes in search of George and the truth, he has to wonder – had the keeping of secrets not marred more lives than the secrets would have destroyed?
DAISY'S DILEMMA from:
MuseItUp and amazon. Links are below. What's it about? Back to London for this one, 1822, when Lady Daisy, sister of Tobias, Earl of Mellon, is recovering from food poisoning.Lady Daisy was one of those secondary characters who simply cried out for a place to tell her own story. So, here it is:
Lady Daisy should be ecstatic when her brother, the earl, allows Mr. John Brent to propose. She's been plotting their marriage for two years. However, she is surprised to find herself underwhelmed and blames their distant cousin, Reuben, for unsettling her.
Reuben Longreach wonders whether the earl understands the first thing about Daisy's nature and her need for a life with more drama than the Season allows. It's abundantly clear to him that Daisy and John are not suited, but the minx accepts his proposal nonetheless.
Meanwhile, Daisy hatches a plan to attach Reuben to her beautiful, beleaguered Scots cousin, Elspeth. Little does she know that Elspeth is the focus of a more sinister plot that threatens Daisy too.
Will Reuben be able to thwart the forces surrounding Daisy before she is irretrievably tied to John? Will Daisy find the maturity to recognise her dilemma may be of her own making before it's too late?
amazon UK and US or  MuseItUp or kobo
Mariah's Marriage Mariah Fox is dedicated to being a teacher in 1822 London, but when Tobias, Earl of Mellon saves her from a charging pig, her world view is disturbed forever.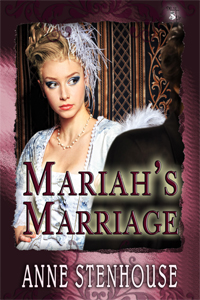 Bella's Betrothal comes north to Edinburgh in 1826. Bella is fleeing scandal and an unhappy home when architect and laird, Charles Lindsay invades her room at the inn. Is he a rescuer or a danger?